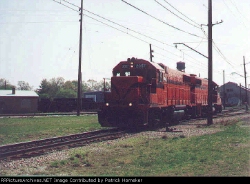 Welcome to the RRPictureArchives.NET contributor site of Patrick Horneker.



This page contains railroad photographs that I have taken for more than twenty years. I started photographing trains back in 1982, and this page is a home where I can store my images.

"Linux Railroad Photography" is a part of horneker.com project, and this album shows that Linux can be a great operating system for railroad photography (not to mention you can save thousands of dollars on software licensing fees by switching to Linux).

Like the rest of horneker.com, the Linux Railroad Photography gallery has been released under the Creative Commons Share-Alike Attribution US License, which means that you can legally use any of the photographs in Linux Railroad Photography freely, provided that you attribute me as the photographer of the used photograph.


This page is viewable with Konqueror, Mozilla Firefox, Mozilla (full version), Galeon, Safari, Epiphany, or Opera browsers, and looks great on the KDE and GNOME desktops, too.

These days, I do much of my railroad photography with a Sony CyberShot DSC-H10, a Hewlett-Packard PhotoSmart M22 camera, and a Cobra 8MP camera (the Black Friday special that was available at Kohl's).

I use Digikam for image management and The GNU Image Management Program for image editing. My PC is a Gateway 700S LTD running PCLinuxOS 2009.1.

In recent days, I do not have to go far in my hometown to see real action. The Canadian National mainline running through Valparaiso, Indiana has been rather busy. In addition to the rainbow assortment of CN power (now with EJ&E), trains from BNSF and UP make up the bulk of the runthrough traffic. CSX, CP and NS run daily freights in both directions, and the amount of leased power makes up the balance of the variety of power seen on the CN.

Yes, I am aware of the Chicago, Fort Wayne and Eastern, and I would love to see one of those trains run through town, especially with RailAmerica's new design for locomotives.



You may browse my collection of pictures via the menu located on the left hand side of the page. I hope you enjoy the collection and thanks for stopping by!